282636
Nóż olejowy do cięcia szkła
175 mm / 2 - 8 mm
---
---
Kółko tnące z węglika wolfranu
ytrzymały metalowy korpus ze zbiornkiem oleju
Mosiężny uchwyt radełkowany
Sprężynowa blokada przepływu smaru
W komplecie z pipetką
---
Kup online
Znajdź dystrybutora
Zrecenzuj ten produkt
10 recenzji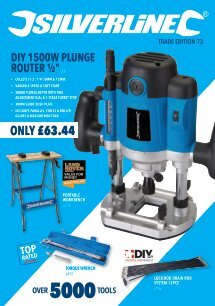 ---
Dane techniczne
| | |
| --- | --- |
| Hartowane | HRC84-86 |
| Tworzywo kon. drugorzędnej | Węglik wolframu |
| Wykończenie | Chromowana głowica, gwint pokryty mosiądzem, metalowa rękojeść |
| Wykończenie rękojeści głównej | Głądkie |
| Waga | 0,075 kg |
---
Kluczowe funkcje
Kółko tnące z węglika wolfranu. Wytrzymały metalowy korpus ze zbiornkiem oleju i mosiężnym uchwytem radełkowanym. Sprężynowa blokada przepływu smaru. W komplecie z pipetką do uzupełniania oleju.
---
Zawartość pudełka
1 x Nóż olejowy do cięcia szkła 175 mm
1 x Pipetka do uzupełniania oleju - 10 mm x 70 mm x 10 mm
---
Oceny klientów
Przez John P
2019-05-11T00:00:00
This is a very well made tool which has a quality feel about it. I will definitely be buying Silverline again.
---
Przez Mike W
2018-12-01T00:00:00
I've been struggling for years with a cheap glass cutter (probably got it from a local hardware store). Breaking glass was the common theme, until now. I searched online to find a tool that could make up for my bad technique, then I found it. The Silverline oiled glass cutter changed everything, I've now cut twenty pieces of glass and mirrors without any breakage. I think the oiler on the cutter has made the difference. I'll be buying Silverline tools from now on.
---
Przez p m
2018-10-28T00:00:00
only used it once, but managed not to smash the glass! Guess we must have been using an old blunt one in the past. Happy.
---
Przez Peter R
2018-05-22T00:00:00
The glass cutter is excellent. There is one thing that Silverline can do to improve the Customers experience that will go that extra mile. That is to include a small amount of cutting oil to acompany The pippet. And advise the user to purchase a supply of cutting oil from Silverline Thank you PS.my suggestion will make it a 5 star rating.
---
Przez A B
2017-08-02T00:00:00
I have to cut glass a couple of times a month for work. Tool is solidly built and produces good clean scores.
---
Przez John O
2017-04-27T00:00:00
Until I needed to replace my ancient glass cutter I''d never come across lubricated glass cutters. Brilliant! They make cutting even old glass easy and accurate. The price is good news too!
---
Przez Robert J
2017-04-15T00:00:00
Proper glass cutter. Until you''ve used this glass cutter you will never know how easy it is to cut glass. I''ve trimmed thin strips off edges of over cut and strips of shaped glass. Also cut ceramic tiles !! Would I recommend YES
---
Przez Davey G
2016-11-26T00:00:00
This glass cutter is the best glass cutter I''''ve ever used. It was very easy to use and did the job brilliantly. The quality of the tool was well made and solid. Putting oil in it made it cut much easier. I will be using silver line tools again and would definitely recommend them to anyone.
---
Przez Vincent C
2016-10-10T00:00:00
A great quality cutter and at a good price. Highly recommend it.
---
Przez Steven H
2016-09-26T00:00:00
Did the job. Good heavy cutter, very nicely made. Have cut circles out of glass, and mirrors. Everyone in the workshop keeps pinching it.