427572
Narzędzie zaciskowe do gniazdek telefonicznych
180 mm
---
---
Narzędzie zaciskowe do gniazdek telefonicznych
Mechanizm sprężynowy
Wysokie i nieskie ustawienia
Blokada kabla i wprowadzenia ostrza
Nożyce do kabli
---
Kup online
Znajdź dystrybutora
Zrecenzuj ten produkt
7 recenzji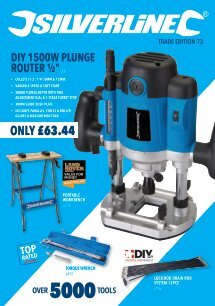 ---
Dane techniczne
| | |
| --- | --- |
| Długość uchwytu | 36 mm |
| Zakres | Do cięcia i wprowadzania przewodów do gniazd telefonicznych |
| Waga | 0,054 kg |
---
Kluczowe funkcje
Narzędzie do cięcia i wprowadzania przewodów do gniazd telefonicznych. Regulacja dociskania kabli z wbudowanymi nożycami do cięcia kabli. Długość całkowita 180 mm.
---
Zawartość pudełka
1 x Narzędzie zaciskowe do gniazdek telefonicznych 180 mm
---
Oceny klientów
Przez Jason H
2020-03-20T00:00:00
I bought my punch down tool as it looked good quality and the price was fantastic, especially when it was available on Prime for next day delivery. Little did I know until it was delivered that it also has a lifetime guarantee! I'm extremely impressed with the build quality and it makes easy work of patching networks.
---
Przez Timo S
2020-02-02T00:00:00
Hab damit meine ersten zwei Netzwerkdosen angeschlossen. Hätte nicht einfacher gehen können als mit diesem Werkzeug. Bin mehr als zufrieden und kann es zu 100% weiterempfehlen
---
Przez Harry F
2018-07-26T00:00:00
Tool wird ohne Gebrauchsanleitung geliefert. Sinnlos.
---
Przez Oliver
2017-11-21T00:00:00
Very good Item, great value for money.
---
Przez Allard
2017-09-27T00:00:00
Tool that I won''t use on a daily basis, but when you want to do a proper job,then this is the tool to do it punches down with little effort then cuts off the excess wire all in one operation. Also a life time guarantee is a big bonus.
---
Przez Thorsten H
2017-03-11T00:00:00
quality is much better than expected; however the "scissors" that should cut the stub of the cable often fail to cut the cable completely
---
Przez Brian D
2016-09-05T00:00:00
This excellent tool ensures a secure joint, easy to use and has a solid construction. Would recommend this tool to DIY or professional users.