633615
Zaciskarka końcówek kablowych z funkcją grzechotki
220 mm
---
---
Hartowana stal szczęk zaciskarki
Mechanizm grzechotkowy zapewnia kontrolowane zaciskanie
Funkcja grzechotki ogranicza zmęczenie dłoni
Klips blokujący rekojeść
Zakres zaciskania izolowanych końcówek 1,5, 2,5 oraz 6 mm2
---
Kup online
Znajdź dystrybutora
Zrecenzuj ten produkt
20 recenzji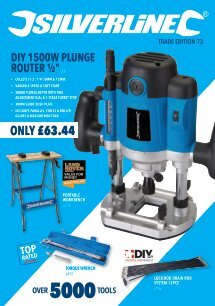 ---
Dane techniczne
| | |
| --- | --- |
| Funkcja - 01 | Zakres zaciskania izolowanych końcówek 1,5 mm / 2,5 mm / 6 mm2 |
| Wykończenie rękojeści głównej | Gładkie |
| Hartowane | Tak |
| Waga | 0,513 kg |
---
Kluczowe funkcje
Wysokiej jakości hartowana stal szczęk szczypce do precyzyjnego zaciskania końcówek kablowych. Narzędzie posiada funkcję grzechotki oraz klips blokady rękojeści dla ograniczenia zmęczenia dłoni. Zakres zaciskania izolowanych końcówek 1,5, 2,5 oraz 6 mm2.
---
Zawartość pudełka
1 x Zaciskarka końcówek kablowych z funkcją grzechotki
---
Oceny klientów
Przez bill s
2016-11-28T00:00:00
Worked well on my boat wiring in a confined space.
---
Przez Michael
2016-08-30T00:00:00
These are very nice ratcheting crimpers at a great price. Far better than the big-box specials for only a few bucks more.
---
Przez Adam
2020-02-12T00:00:00
Quality product at a competitive price. Especially like the lifetime guarantee!
---
Przez rod d
2020-01-04T00:00:00
I have used a similiar tool at work, bui thos is the first time I have had one at home. I had a couple of pressed-steel tools, but found one was so badly made it hardly worked. This is a HUGE step up-market.
---
Przez Ian H
2020-01-02T00:00:00
Excellent tool easy to use, good solid crimp and very good price.
---
Przez Rod D
2019-12-28T00:00:00
I have used several simple crimp tools made from pressed flat steel, this ratchet tool with lots of leverage is a delight to use. Real professional standard.
---
Przez Rod D
2019-12-28T00:00:00
This is an EXCELLENT frost scraper, as widely used in Europe. The metal blade takes off light or heavy frost - not big frozen drops or frozen snow - quickly and completely. I love mine so much I bought a spare, since this kind of scraper is not easy to find in shops.
---
Przez Dave D
2019-12-10T00:00:00
Great product at a great price Makes joining wires easy adjustable Would recommend
---
Przez Mark
2019-11-05T00:00:00
Great quality at a good price
---
Przez Aumair
2019-07-11T00:00:00
Purchased after my previous pair broke, pricing, build quality & usage of these crimps are very good & does the job as required
---
Przez Robin
2019-07-11T00:00:00
I found this crimping tool to be easy to use with yellow through-crimp connectors on 6mm cable. The ratcheting mechanism takes little effort and the twin teeth give a really secure crimp. It is possible to lock the handle in the closed position when not in use, though there''s a knack to it. Recommended.
---
Przez Sajid H
2019-06-14T00:00:00
Perfect tools in silver line brand especially when i had life time gaurantee on one of there products
---
Przez Ray W
2019-06-11T00:00:00
Excellent tool Well made Easy to use. Gives great confidence that it has done the job properly. Would definitely recommend
---
Przez David B
2019-05-06T00:00:00
Robust tool sturdy and solid
---
Przez David
2019-04-30T00:00:00
Sturdy bit of kit which performs well.
---
Przez Ian H
2017-07-31T00:00:00
I tend to tinker with my car and I bought this to replace a ''single action'' crimper which was forever seizing just when I needed it. This new one, having the ratchet mechanism, is very easy to use and gives a good secure action tightening the connector to the cable with ease. Definitely a well worthwhile the addition to my toolbox.
---
Przez Vladimir
2017-05-08T00:00:00
Massive tool crimps aluminium terminals easily. Handles are comfortable. However once terminal is between the jaws, it locks, so only way to get it off is to squeeze the jaws all the way, then ratchet unlocks. No wire cutting or stripping functions.
---
Przez david b
2017-04-21T00:00:00
Allows spade to be held in jaws whilst feeding in wire, use ratchet to crimp one handed Well made, poss a little heavy
---
Przez Crosbie D
2017-03-10T00:00:00
Just excellent, as does what it is supposed to,, and very sturdy construction
---
Przez Stuart R
2017-02-20T00:00:00
Very good value for money. Produces a very tight crimp with out damaging the plastic sleev of the terminal