868581
Wytrzymały wózek transportowy
315 kg
---
---
Wytrzymały stalowy stelaż malowany proszkowo
Pneumatyczne koła terenowe ze szczelnymi łożyskami kulkowowymi zapewniają płynne i ciche obroty
Idealny do ciężkiego ładunku podczas codziennej pracy w magazynie oraz biurze
Wysokość całkowita 1140 mm/ półka transportowa 350 x 190 mm
Maksymalna ładowność 315 kg
---
Kup online
Znajdź dystrybutora
Zrecenzuj ten produkt
27 recenzji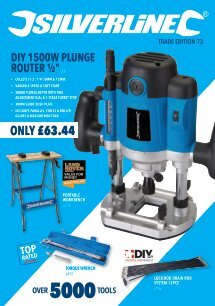 ---
Dane techniczne
| | |
| --- | --- |
| Długość osi | 490 mm |
| Grubość osi | 15 mm |
| Maksymalne obciążenie | 315 kg |
| Głębokość płyty | 190 mm |
| Grubość płyty | 3,6 mm |
| Szerokość płyty | 350 mm |
| Waga | 9,4 kg |
| Ocena bezpieczeństwa | BS EN 1757-3:2002, BS EN 12527:1999, BS EN 12532:1999 |
---
Kluczowe funkcje
Solidny i wytrzymały wózek transportowy przeznaczony do przewożenia ciężkich przedmiotów podczas codziennej pracy zarówno w magazynie jak i biurze. Wytrzymały stalowy stelaż, wysoka jakość spawanych złączy, wykończenie powierzchni pomalowane proszkowo dzięki czemu działa antykorozyjnie oraz zapobiega odpryskom. Duża półka transportowa ułatwia nakładanie ładunku. Pneumatyczne koła z ochraniaczami do nadkoli sprawdzają się w każdym terenie. Najwyższej jakości, niewymagające konserwacji, szczelne łożyska kulkowe zapewniają płynne i ciche obroty kół. Wysokość całkowita 1140 mm. Półka transportowa 350 x 190 mm. Maksymalna ładowność 315 kg.
---
Zawartość pudełka
2 x Kółka
2 x Podkładki
2 x Kołeczki
1 x Wózek transportowy
---
Oceny klientów
Przez Jason T
2016-10-10T00:00:00
The metal struts the load leans against began to bend after repeated use until the load was no longer resting level
---
Przez Martin N
2016-10-10T00:00:00
First unit supplied was faulty and was returned unused. The "in built" wheel washer was severely bent so wheel could not be fitted. Replacement arrived within 48hrs and is fine. Good product which works well and good service from Tool Station, Kettering branch.
---
Przez Diane W
2016-09-26T00:00:00
What a fantastic sack barrow light easy to use versatile strong wish we had bought one years ago.Moved some garden pots around the garden and it was so easy with this barrow.
---
Przez Eric S
2016-09-26T00:00:00
All you have to do is take it out of the packaging, put the wheels and handle grips on - job done! Extremely well made product and very useful for moving heavy articles around the garden or garage. It''s good value for the money and should last year''s.
---
Przez Mark B
2016-09-26T00:00:00
Sturdy and well made, used it to move 70 large paving slabs over varied ground - took all the strain out of the job. Excellent bit of kit.
---
Przez Paul P
2016-09-26T00:00:00
Excellent sack truck at a great price
---
Przez STEPHEN M
2016-09-05T00:00:00
Very pleased with the item. It is and does all that I had hoped it would. Thank You. The instructions for fitting wheels was clear and easy to follow and only took a couple of minutes.
---
Przez David P
2016-08-30T00:00:00
This is an excellent piece of equipment,don''t know how I managed without it. Highly recommend
---
Przez Mark B
2015-08-05T00:00:00
Truck its self is good but the plastic handles twist and I had to glue them in place which would have been fine apart from after using a few times and well under the weight limit one of the tyres split open exposing the inner tube. My supplier kindly bought me two new wheels from another company to replace them as they said they would have to send the whole thing back to Silverline and order another one. Mine was not fit for purpose, but now is with the new wheels
---
Przez Mick o
2020-08-31T00:00:00
Good truck. But silverline don't seem to sell spares,
---
Przez William
2020-05-07T00:00:00
Highly delighted with the purchase of a Silverline Heavy Duty Sack Truck. Very useful for moving heavy pots around my garden. Much easier on my old back 🤣
---
Przez Nicole C
2019-12-02T00:00:00
Good, strong, quality product - has already come in useful on many occasions
---
Przez Joe S
2019-11-21T00:00:00
I purchased this sack truck when I needed one to move home, it did exactly what it said, I moved washing a washing machine & other house hold appliances with the greatest of ease and manoeuvrability, the pneumatic tyres are very useful as they decrease the strain on your wrist/arms from the effect of an uneven surface or pot holes. All in all I'm very satisfied with the construction and handling of the truck.
---
Przez James
2019-10-29T00:00:00
Getting older, can''t do as I used to do, this does the job, so easy to use, bought it to move white goods when needed, I use rachet straps to secure to the trolley, and made some wooden ramps to help the trolley over door threshold, wish I''d bought this years ago, lifetime guarantee too. Great price. Will use Silverlinetools from now on.
---
Przez ross b
2019-06-09T00:00:00
like what I have got hope it dose what I need it for. Also good price for this item
---
Przez Robert M
2018-10-22T00:00:00
Very strong and well built. Perfect for what I needed.
---
Przez Mark B
2018-07-01T00:00:00
This trolley is sturdy and the large inflatable tires handle uneven terrain with ease. It's been very reliable.
---
Przez F P
2018-05-31T00:00:00
Two weeks old and one of the wheel guards is bent so far it stops the wheel rotating. Not good
---
Przez David J
2017-10-10T00:00:00
My wheelbarrow is now a plant holder. I needed a strong, stable barrow to move a Belfast sink from front to back garden. I bought the Silverline sack barrow and it enabled me to move the very heavy sink easily..I''m glad I chose this barrow, it''s going to be a great help for a long time.
---
Przez Richard
2017-06-29T00:00:00
I got this as I needed to move some heavy slabs around, Did the job perfectly and I find I use it all the time now to move all sorts. Seems to be reasonable strong and comes with a life time guarantee
---
Przez Colin M
2017-06-12T00:00:00
Totally invaluable piece of kit, we are moving house and doing the removal ourselves. Couldn''t have done it without the sack truck. Heavy duty and very tough.
---
Przez Carley M
2017-04-19T00:00:00
Perfect strong and durable. The tyres are great and it''s easy to use
---
Przez helen c
2017-04-18T00:00:00
a lightweight but strong and easy to use product
---
Przez Matt p
2017-04-02T00:00:00
Great product so simple sooo good thanks.
---
Przez TONY A
2017-03-23T00:00:00
I am very pleased with this Silverline heavy weight sack barrow much better than expected well worth the purchase price I fully recommend it to all future customers first class service from seller arrived before due date thank you
---
Przez Lee D
2017-02-27T00:00:00
Only had this a few days and not really used it yet so cannot comment on that aspect of product. However, from Trago this is an excellent priced product and with a lifetime guarantee hopefully it will give many years of service.
---
Przez Jean M
2016-10-27T00:00:00