934113
Automatyczne ściągacz izolacji
175 mm
---
---
Mocna, stalowa obudowa narzędzia malowana proszkowo
Szczęki zapobiegają miażdżeniu lub przecinaniu nawet najcieńszych drutów
Jednoręczne, chwytyają i zdejmują isolację z przewodów od 0,3 -8,0 mm2
Ostrza do ściągania posiadają wyraźne oznakowaznie miary oraz winylowe uchwyty
Długość: 175 mm
---
Kup online
Znajdź dystrybutora
Zrecenzuj ten produkt
8 recenzji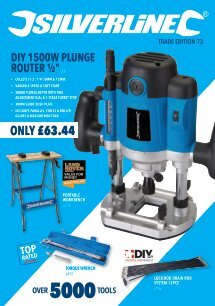 ---
Dane techniczne
| | |
| --- | --- |
| Funkcja - 01 | 22 - 8 AWG |
| Skala | 0,5, 1,2, 1,5, 2,0, 2,6 i 3,2 mm |
| Przedział ściągania izolacji | 22 / 20-18 / 16-14 / 12 / 10 / 8 mm |
| Rozpiętość - szczęk | 0,5, 1,2, 1,5, 2,0, 2,6 i 3,2 mm |
| Waga | 0,282 kg |
---
Kluczowe funkcje
Mocna, stalowa obudowa narzędzia malowana proszkowo z regulacją długości zdejmowanej izolacji. Szczęki zapobiegają miażdżeniu lub przecinaniu nawet najcieńszych drutów. Ściąga izolacje z kabli 0,3 - 8,0 mm2. Długość: 175 mm
---
Zawartość pudełka
1 x Automatyczne ściągacz izolacji 170 mm
---
Oceny klientów
Przez michael l
2020-05-30T00:00:00
good solid tool. easy to use and not expensive
---
Przez James B
2020-01-19T00:00:00
Having seen this type of wire stripper previously, I always considered these to be the premier type of wire stripper, but most makes are out of my price range for the use I will give them as a modeller and DIYer. However having seen these at a show at a very reasonable price I thought it worthwhile. The quality is good, they work well and have a lifeline garuntee, at the price what is there not to like.
---
Przez Kevin t
2019-07-27T00:00:00
Great quick and easy to use strips with no loose wires
---
Przez Harry
2019-06-21T00:00:00
Excellent wire strippers. Very easy to use, works on various thickness of wires and doesn''t damage the copper inside. Would highly recommend.
---
Przez Anthony G
2019-01-05T00:00:00
Good product seem to be pretty well built and helped me finish the job in no time. Guaranteed too which is a bonus even though I don''t think I will need to use it.
---
Przez Dave P
2018-06-14T00:00:00
A nice looking tool and I expect it will work quite well when I use it. The length guide attachment is not easy to attach with a very small screw and a not very good thread, plus the side of the tool is angled which puts the attachment at an angle to the stripper! The attachment is basically useless!
---
Przez Martin W
2017-05-19T00:00:00
I have had several of these in the past from other manufacturers which were a lot more expensive so was a little unsure how these would perform. I have been pleasantly surprised - used now for a few weeks and impressed by the build quality vs cost. Consistent strips every time - looking good. Thanks ..
---
Przez Frank W
2017-01-24T00:00:00
This is a very nice stripper for a very good price.