244964
Lame TCT pour placages, 80 dents
250 x 30 - Bagues de 16, 20 et 25 mm
---
---
Pour placages, aggloméré mélaminé , MDF, bois durs
Acier trempé à pastilles de carbure de tungstène
80 dents
Angle de coupe 0°
Alésage de 30 mm, bagues réductrices de 16, 20 et 25 mm
---
Achetez en ligne
Trouver un magasin
Évaluez ce produit
14 évaluations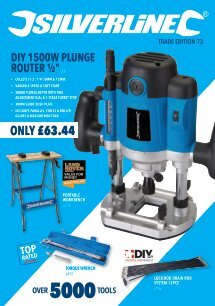 ---
Caractéristiques techniques du produit
| | |
| --- | --- |
| Diamètre de la lame | 250 mm |
| Vitesse max. | 4 600 min-1 |
| Angle de la lame | 0° |
| Taille de la lame | 250 mm |
| Largeur de la lame | 250 mm |
| Finition | Poli et revêtement antirouille |
| Trempé | Oui |
| Matériau - pointe | Carbure de tungstène |
| Épaisseur du plateau | 1,80 mm |
| Poids du produit | 0,630 kg |
| Taille des dents / segments | 4,5 x 2,4 mm |
| Matériau - construction secondaire | Carbure de tungstène |
| Méthode de fabrication | Brasé |
| Forme des dents / segments | TCG |
---
Caractéristiques principales
Lame à angle d'attaque de 0° pour les panneaux de particules, placages, MDF et bois durs stratifiés. Convient aussi pour la coupe des panneaux de plâtre et du béton cellulaire. Acier trempé, 80 dents en carbure de tungstène. Alésage de 30 mm, bagues réductrices de 16, 20 et 25 mm. Vitesse max. de 4 600 min-1.
---
Contenu
Bague réductrice 20 mm
Bague réductrice 25 mm
Couvre-lame plastique
Bague réductrice 16 mm
---
Évaluations de clients
par : Gary H
2020-03-09T00:00:00
Considering the low price of this profile gauge, the quality is as good as any gauge at 4 times the cost. Great product
---
par : Juan L
2019-11-20T00:00:00
Considero que es una buena herramienta. Una marca muy bien considerada y con vbuenos materiales.
---
par : Mark
2019-09-18T00:00:00
Really good value for money blade! Performs and cuts well.
---
par : wayne w
2019-07-17T00:00:00
NO GOOD also this form disappeared trying to submit Basically last less then 10 cuts, then smoked burning wood - DO NOT Purchase - used on a DEWALT DWS778 and specially purchased this blade changed to Freud , and did over 100 cuts and still going strong
---
par : Hafid
2019-04-15T00:00:00
Produit correspondant à mes attentes. Produit livrer avant la date prévu. Scie de qualité qui donne une coupe nette sans éclat.
---
par : luigi d
2017-12-10T00:00:00
---
par : Paddy v
2017-11-09T00:00:00
It is amazing that one (well me!) would keep pushing back the inevitable! The blade of my table saw was done! I needed a blade and fast! I found the TCT veneer blade on Silverlinetools, no hassle ordering process and fast delivery! Happy camper!! Paddy
---
par : trevor w
2017-11-05T00:00:00
VERY SATISFIED WITH BLADE. BOUGHT TWO OFF TO MAKE STACKED DADO . GREAT PRICE COMPARED WITH OTHER PRODUCTS
---
par : Stuart g
2017-10-16T00:00:00
Brilliant cut highly recommend I fit bespoke kicthens and tis blade give a brilliant finish
---
par : Ralf
2016-11-03T00:00:00
Laufruhig schöner sauber schnitt
---
par : Kenny R
2016-10-24T00:00:00
Blades worked well on standard laminate flooring but struggled with waterproof/plastic backed (kitchen) flooring. Would certainly use these again.
---
par : N P
2016-09-26T00:00:00
Hi. Very good value for money and good product.
---
par : Rob v
2016-08-31T00:00:00
---
par : Istvan S
2016-08-30T00:00:00
I bought this Silverline product to my radial saw and I am very satisfied with it. It has a very good price compared the others with the same quality. I am cutting with clear surface and in correct position. Plus value the extented warranty. Thanks.
---
Garantie à vie
Ce produit Silverline est garanti pendant une période de 30 jours à partir de la date d'achat contre tout vice de matériaux ou défaut de fabrication. Vous pouvez obtenir une garantie à vie en enregistrant votre produit en ligne. Tout bien présentant un défaut sera réparé ou remplacé gratuitement.