991704
Lot de 2 lames TCT pour scie circulaire : 40 et 60 dents
---
---
Robustes, en acier trempé et revenu à pastilles de carbure de tungstène
Lame carbure de tungstène à denture biseau alternée
40 et 60 dents
Angle de coupe positif 15°
Alésage de 30 mm avec bagues de réduction de 16, 20 et 25 mm
---
Achetez en ligne
Trouver un magasin
Évaluez ce produit
7 évaluations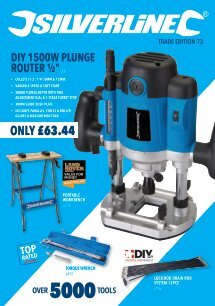 ---
Caractéristiques techniques du produit
| | |
| --- | --- |
| Diamètre de la lame | 250 mm |
| Vitesse max. | 4 600 tr/min |
| Angle de la lame | Angle d'attaque 15°, positif |
| Taille de la lame | 250 mm |
| Largeur de la lame | 250 mm |
| Finition | Poli et lubrifié |
| Trempé | Oui |
| Matériau - pointe | Carbure de tungstène |
| Épaisseur du plateau | 1,8 mm |
| Poids du produit | 0,578 kg |
| Taille des dents / segments | 4,7 x 2,5 mm |
| Matériau - construction secondaire | Carbure de tungstène |
| Méthode de fabrication | Brasé et estampé |
| Forme des dents / segments | ATB |
---
Caractéristiques principales
2 lames de scie circulaire pour la coupe du bois dur, bois tendre, panneaux de particules et autres matériaux composites. Acier trempé et renforcé pour une durabilité accrue. 40 et 60 dents.
---
Contenu
Bague de réduction 20 mm
Bague de réduction 25 mm
Lame TCT pour scie circulaire 40 dents
Lame TCT pour scie circulaire 60 dents
Bague de réduction 16 mm
---
Évaluations de clients
par : Giovanni I
2020-02-18T00:00:00
Ottimo prodotto. Ottimo rapporto qualità/prezzo.
---
par : Joe
2019-11-20T00:00:00
I haven''t used these much,but the little I have used these blades they''ve been very impressive,I would recommend for quality and value,
---
par : Philip
2019-06-01T00:00:00
The 60 tooth blade made cutting of laminate flooring a piece of cake. The cuts were clean and precise with very little chipping. I haven''t used the 40 tooth blade yet. Very pleased so far.
---
par : Chris B
2018-07-20T00:00:00
I use these on a regular basis, being a serious diy''er as well as doing jobs for friends. They are Sharp, true and excellent value for money. I have even given some older used ones to a neighbour and he has since purchased new ones too. Highly recommended.
---
par : John K
2017-06-13T00:00:00
Excellent quality for the price,the blades cut cleanly and sharply. Will definitely buy again.
---
par : Leigh P
2017-01-20T00:00:00
I''''ve been using these blades a few weeks now and cannot fault them there very stable and manage to cut with real ease even hard woods don''''t seem to fase them, I''''ve been ripping, trimming finishing parts to the current project with little tear out which the blades that I''''ve used in the past tend to tear out a lot especially with ply.
---
par : Adrian L
2016-08-22T00:00:00
Have only used the 40 tooth blade. Private DIY use cutting only wood (with no nails) with radial arm saw. Only had very occasional use of around 2 to 3 hours at most. It''s already deteriorated to the extent that it''s labouring to get through soft wood even when cross cutting. Haven''t used the 60 tooth blade yet so can''t comment, but most disappointed with this product which, interestingly enough, is no longer stocked by the retailer it was purchased from. Wonder why? Incidentally, if you do purchase anything from Silverline with their ''lifetime'' guarantee, ensure that you register the warranty within their stipulated 30 days. I didn''t! I have never submitted a poor review on a product before but felt it necessary in this case
---
Garantie à vie
Ce produit Silverline est garanti pendant une période de 30 jours à partir de la date d'achat contre tout vice de matériaux ou défaut de fabrication. Vous pouvez obtenir une garantie à vie en enregistrant votre produit en ligne. Tout bien présentant un défaut sera réparé ou remplacé gratuitement.