261362
Polisseuse-lustreuse orbitale 240 mm, 110 W
---
---
Mouvement orbital
Support en mousse double densité
Confort d'utilisation grâce à ses deux poignées
Pour le polissage et le lustrage de carrosseries de véhicules
Fournie avec un bonnet en laine et un bonnet en tissu synthétique
---
Achetez en ligne
Trouver un magasin
Évaluez ce produit
25 évaluations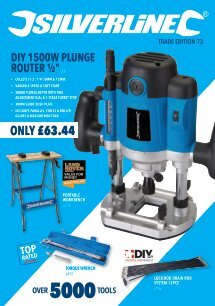 ---
Caractéristiques techniques du produit
| | |
| --- | --- |
| Classe de protection | IP20 |
| Puissance | 110 W |
| Diamètre du disque | 240 mm |
| Vitesse à vide | 3 100 min-1 |
| Poids du produit | 2,095 kg |
---
Caractéristiques principales
Polisseuse 110 W à mouvement orbital permettant d'obtenir une belle finition ne laissant aucune marque sur la carrosserie. Fournie avec un bonnet d'application et un bonnet de polissage pour patin en mousse double épaisseur d'un diamètre de 240 mm.
---
Contenu
1 x Polisseuse-lustreuse orbitale 110 W
1 x Bonnet en tissu synthétique
1 x Bonnet en laine synthétique
1 x Manuel d'instructions
---
Évaluations de clients
par : Hugh
2020-06-07T00:00:00
Good product but the fixing method for the polishing bonnet would benefit from a better securing piece than tying a knot in cord.
---
par : alex w
2019-10-02T00:00:00
Can anybody tell me the kind of knot to use to attach the polishing bonnet? 3 times now the VERY thin polyester string has wrapped itself around the drive shaft in spite of double reef knots, triple bows topped with double reef knot & more!
---
par : d k
2019-06-29T00:00:00
does exactly what it says on the box, at a really good price :-)
---
par : M B
2019-06-22T00:00:00
Excellent polisher for the beginner producing stunning results to my car''s paintwork. One minor suggestion if both bonnets had elasticated fitment rather than the corded/tie-on type use would be easier. If Silverline decide to make a 125-150mm version I''d be first in the queue as it would be even more versatile.
---
par : Brian R
2019-06-20T00:00:00
---
par : M D
2019-06-16T00:00:00
Good product for the DIY''er. Pity both polishing bonnets are not elasticated as the corded one kept loosening. I wish Silverline would produce a smaller version inline with those used by professional dealers, I''m sure it would be a success.
---
par : Joe
2019-06-10T00:00:00
Decent bit of kit, great price. Saves a lot of time vs doing by hand. Lets see how long it lasts!
---
par : Peter S
2019-05-12T00:00:00
Brilliant product well balanced, easy to use.
---
par : Peter W
2017-06-04T00:00:00
Perfect right price, right quality and does the job well done Silverline for a first class bit of kit!
---
par : HENRIQUET
2017-05-05T00:00:00
---
par : Antony K
2017-05-02T00:00:00
Used the product only once but works well and polished my van to a high sheen
---
par : Keith M
2017-04-03T00:00:00
I have only used it once since I purchased it and i am suitably impressed with how easy it is to use. ( I am seventy years old) also the finish on the paint is brilliant. I was also impressed with the purchase price. I am still wuite active due to your power tools,they make life a little bit easier. Thank you. Keith from Spain.
---
par : Kaz
2017-03-31T00:00:00
Excellent, works well and easy to handle. Very happy with this purchase.
---
par : susan
2017-03-30T00:00:00
not had chance to use it yet as weather been rubbish so will leave a review once used
---
par : Gav l
2017-03-30T00:00:00
Great purchase gives the paint a great polish
---
par : Gavin l
2017-03-23T00:00:00
Bought the orbital car polisher and it''s brilliant
---
par : Peter L
2017-02-14T00:00:00
Very good but the hardest thing is fitting the polishing cloth with the ties, the first time it came off so I put it on again this time the tie court in the motor so I had to cut free and start again
---
par : Kalsi
2017-01-13T00:00:00
I like it but I expect more.
---
par : Iain
2016-10-31T00:00:00
Easy to use, does a great job for the price. Highly recommended
---
par : Jack R
2016-09-26T00:00:00
Great polisher, easy to use, saves a huge amount of effort and gives a great finish. When you''re polishing a 70ft narrowboat, these things are very important!
---
par : brian l
2016-09-12T00:00:00
haveing only had to use on 1 accasion over a period of 2 days on my car i did find it a bit difficult to hold.but returned a great result.
---
par : Y. R
2016-09-12T00:00:00
The results achieved exceeded out expectations. Red cars tend to fade to pink and ours was in a very bad state. The polisher was easy to use and brought the colour back to its former glory. We had to go over the worst areas a few times but it wasn''t hard work and the effort was definitely worth it.
---
par : PERCY
2016-09-12T00:00:00
As I have COPD and heart problems I find that I can now polish my car again, I was unable to polish it because I cannot get my breath, I can now and I don''t get out of breath so much,
---
par : Nigel g
2016-09-12T00:00:00
Very good buffer does a great job with ease
---
par : Des K
2016-08-08T00:00:00
Excellent producy for the price. Easy to use so long as you dont put too much polish on at a time and keep it moving over the panel. Changing pads ok although velcro pads would be easier but for the price no problem.
---
Garantie 3 ans
Ce produit Silverline est garanti pendant une période de 30 jours à partir de la date d'achat contre tout vice de matériaux ou défaut de fabrication. Vous pouvez obtenir une garantie à vie en enregistrant votre produit en ligne. Tout bien présentant un défaut sera réparé ou remplacé gratuitement.