870944
Ponceuse orbitale excentrique 125 mm, 240 W
240 W (UK)
---
---
Patin de ponçage auto-agrippant et action orbitale excentrique
Tubulure d'extraction des poussières et sac à poussières
Interrupteur marche/arrêt sous protection hermétique
Poignée ergonomique
2 feuilles abrasives incluses
---
Achetez en ligne
Trouver un magasin
Évaluez ce produit
14 évaluations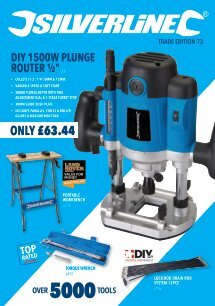 ---
Caractéristiques techniques du produit
| | |
| --- | --- |
| Liant de l'abrasif | Auto-agrippant |
| Finition | Plastique |
| Classe de protection | IPX28 |
| Diamètre de l'orbite | 2 mm |
| Puissance | 240 W |
| Diamètre du disque | 125 mm (5") |
| Vitesse à vide | 12 000 min-1 |
| Poids du produit | 1,22 kg |
---
Caractéristiques principales
Pourvue d'un moteur puissant de 240 W avec action orbitale vous garantissant une finition lisse et uniforme. L'interrupteur est protégé hermétiquement contre la poussière ce qui en augmente la durée de vie. Patin de ponçage de 125 mm de diamètre avec système auto-agrippant permettant de fixer et de changer rapidement et facilement les disques de ponçage. Tubulure d'extraction des poussières et sac à poussières constituant un moyen efficace pour contenir les poussières et ainsi améliorer votre espace de travail. Conception compacte et légère avec poignée ergonomique vous garantissant plus de confort et une meilleure maîtrise.
---
Contenu
1 x Ponceuse orbitale excentrique
1 x Patin de ponçage
2 x Feuilles abrasives
1 x Manuel d'instructions
---
Évaluations de clients
par : Eddie
2020-06-16T00:00:00
While it was working, it worked very well, BUT this machine is not listed for spare parts. I need a replacement velcro pad because it is worn out and chucks discs off, and the eccentric bearing assembly which doesn''t like edge loading, which I need to do on concave surfaces. No reply from spares organisation. I''m not looking for warranty as the velcro is consumable and I''ve probably abused the bearing out of necessity, just want to be able to buy the bits. Motor section running fine. Built in dust collector essentially doesn''t when using 1000+ grit and upwards on paint, but I''m outdoors, so not too bothered about that.
---
par : andrew w
2020-06-08T00:00:00
Very pleased with this sander which is much lighter than the one this was bought to replace, it''s also quieter. The sander is powerful, and quickly removes material - I am using it for sanding paint and body filler on my 1972 VW camper restoration. The dust bag works well, and the 3 year warranty gives great peace of mind too.
---
par : A. R
2019-11-06T00:00:00
As usual a superb product which although simple and easy to use produces results beyond my expectation
---
par : A. R
2019-10-29T00:00:00
Like other Silverline tools I possess , the item is simple and a comforting pleasure to work with. Does what I expect of it without any problematic issues and gives me the finish I demand.
---
par : george m
2019-05-31T00:00:00
nice size,quick change discs,snug grip,powerfull motor,very handy tool.
---
par : Dan p
2019-05-24T00:00:00
Amazing little sander , perfect for all the diy jobs around the house , Highly recommend
---
par : MR B
2019-04-29T00:00:00
Good sander works great on the car. Somewhat noisy but cannot compare with others as never used one before.
---
par : MR B
2019-04-22T00:00:00
Nice little tool used for sanding car prior to pant spraying. Somewhat noisy but only to be expected. Works very well and does the job.
---
par : Hugh m
2018-05-27T00:00:00
Bought this to do my motorhome was looking for one that fits in the pam of my hand so for works great easy too switch on button right at your fingers
---
par : Paul M
2017-10-21T00:00:00
Just what I wanted does what it supposed to do with ease and lightness , Can not fault it
---
par : Michael R
2017-09-15T00:00:00
Brilliant machine. well worth the money. paid for itself in one morning
---
par : William e
2017-04-22T00:00:00
A super little orbital sander,it fits into the palm of your hand and the hook and loop fastening makes changing the sanding discs easy,it''s powerful enough for any sanding jobs all in all a good value tool
---
par : ian s
2017-03-23T00:00:00
had this today and it works real well not as fast as my last orbital but does the job nicely, at least with this one the discs stay on the hook and loop base not like a more expensive other brand one i sent back after 20 minutes.... this one is a cheap well made item im well chuffed at the moment
---
par : Charles M
2016-09-12T00:00:00
I purchased this 240W Random Orbital Sander a few months ago and it sure passed its endurance test. To be honest I thought that it was just another cheap tool that will burn out, but I was wrong!
---
Garantie 3 ans
Ce produit Silverline est garanti pendant une période de 30 jours à partir de la date d'achat contre tout vice de matériaux ou défaut de fabrication. Vous pouvez obtenir une garantie à vie en enregistrant votre produit en ligne. Tout bien présentant un défaut sera réparé ou remplacé gratuitement.