296135
Pince à dénuder ajustable 2-en-1
170 mm
---
---
Outil à la fois léger et réglable
Compatible avec fils de 0,2 à 6 mm²
Lame coupe-fil incluse
Peut dénuder sur une longueur pouvant atteindre 15 mm
Longueur : 170 mm
---
Achetez en ligne
Trouver un magasin
Évaluez ce produit
10 évaluations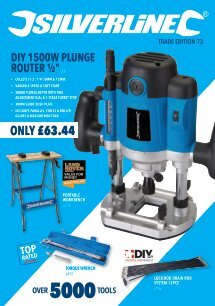 ---
Caractéristiques techniques du produit
| | |
| --- | --- |
| Fonction 01 | Pince à dénuder |
| Graduation | 0,2 à 6,0 mm² |
| Plage de dénudage | 0,2 mm à 6 mm² |
| Capacité - mâchoire | 0,2 à 6,0 mm² |
| Poids du produit | 0,133 kg |
---
Caractéristiques principales
Outil à la fois léger et réglable, compatible avec fils de 0,2 à 6 mm². Lame coupe-fil incluse. Peut dénuder sur une longueur pouvant atteindre 15 mm. Longueur : 170 mm.
---
Contenu
1 x Pince à dénuder ajustable 2-en-1
---
Évaluations de clients
par : david
2020-03-20T00:00:00
purchased as a replacement for previous damaged different make- this is much stronger than the damaged item and strips cables easier even though it is lighter. This wire stripper is well worth the money and a great tool for any toolbox
---
par : Richard H
2019-11-07T00:00:00
The 2-in-1 Adjustable Wire Strippers gives the user tenfold confidence of having a very well made piece of equipment worth having in any toolbox. The tool performs the task in hand with great ease and has sufficient weight in it to be comfortable in your hand when using it. Further consumer confidence in owning a Silverline hand tool is that it has the Silverline Quality Product lifetime Guarantee behind it.
---
par : Karen
2019-08-08T00:00:00
I love these wire strippers so easy to use. I needed some that would strip small wires these are ideal.
---
par : John P
2018-11-28T00:00:00
Good solid product backed up with lifetime guarantee
---
par : Paul c
2018-07-05T00:00:00
Had an RS strippers for 15years and these feel just as strong and good
---
par : matt c
2016-12-20T00:00:00
The strippers did the job, but they feel very flimsy and will only strip small wire.
---
par : Fred S
2016-10-11T00:00:00
This replaced a previous one that broke. It works well and was very good value for money.
---
par : Dik
2016-09-26T00:00:00
I hoped to use this for hobby work on a model railway but it really can''t cope with small gauge wires and is really only happy when stripping mains cables. I''ll keep it in the toolbox but it won''t be seeing the light of day much, sorry.
---
par : Luke F
2016-08-30T00:00:00
These are the worst wire strippers I have ever used. They do remove the coating from the cable, but the result isn''t nice nor is the graunching action of the mechanism.
---
par : Watson
2016-08-30T00:00:00
Adjustment for wire thickness doesn''''t work. Customer service didn''''t bother to respond to my e-mails. Now in bin!
---
Garantie à vie
Ce produit Silverline est garanti pendant une période de 30 jours à partir de la date d'achat contre tout vice de matériaux ou défaut de fabrication. Vous pouvez obtenir une garantie à vie en enregistrant votre produit en ligne. Tout bien présentant un défaut sera réparé ou remplacé gratuitement.