571295
Meuleuse d'angle 115 mm, 650 W
115 mm (UK)
---
---
Poignée auxiliaire à 2 positions
Verrouillage de l'arbre
Interrupteur s'éteignant automatiquement par simple relâche pour plus de sécurité
Pour meuler et tronçonner le métal, la pierre et le béton
Pour éliminer efficacement rouille et corrosion avec disques et brosses boisseau
---
Achetez en ligne
Trouver un magasin
Évaluez ce produit
15 évaluations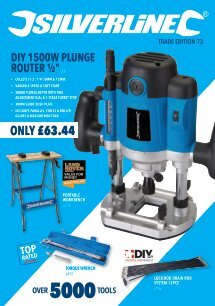 ---
Caractéristiques techniques du produit
| | |
| --- | --- |
| Diamètre de la lame | 115 mm |
| Diamètre du disque | 115 mm |
| Finition | Plastique |
| Classe de protection | IP20 |
| Taille du filetage | M14 |
| Puissance | 650 W |
| Vitesse à vide | 11 000 min-1 |
| Poids du produit | 1,77 kg |
---
Caractéristiques principales
Meuleuse d'angle compacte et polyvalente pour meuler, tronçonner et poncer. Dispositif de protection réglable et poignée latérale à 2 positions. Interrupteur s'éteignant automatiquement par simple relâche pour plus de sécurité. Diamètre de la meule : 115 mm. Vitesse à vide : 11 000 min-1.
---
Contenu
1 x meuleuse d'angle 650 W, 115 mm
1 x bride filetée
1 x bride interne
1 x poignée auxiliaire
1 x clé à ergot
1 x clé hexagonale
1 x paire de balais de charbon
1 x manuel d'instructions
---
Évaluations de clients
par : Gerald F
2020-06-15T00:00:00
Fantastic tool,nice soft start, does what it says on the tin, could do with it's own proper storage case, but for the price excellent value.!
---
par : Martin
2020-06-11T00:00:00
Nice little angle grinder great value easy to use and turn off and on when using it, came with handle disc removal tool and a spare set of motor brushes !
---
par : Dainius
2020-06-02T00:00:00
Great build quality. Sturdy and no wobbly parts. So far works like a charm. Managed to cut some metal and brush some rust. I''m sure I will have more things to do with my new toy. Small thing I liked is extra carbon brushes to replace
---
par : Angus M
2020-05-22T00:00:00
Excellent tool to work with, I always buy Silverline tools. Very happy with the product
---
par : m c
2020-05-12T00:00:00
nice tool easy to handle fairly light just right
---
par : Marilyn M
2020-04-29T00:00:00
My husband is thrilled with the results he''s got taking the paint off his Vespa. He bought the pads and I bought the buffer to go with it. The two wire brushes that came with the angle grinder are doing a great job.
---
par : Marilyn M
2020-04-22T00:00:00
My husband is thrilled with the angle grinder. He also bought the box containing grinding discs and wire brushes. I bought him the buffing pad. Extremely good value for money. Does what it says on the box.
---
par : Andrew S
2020-04-06T00:00:00
Quietly please and very satisfied with the smooth transition from switch it on, and the commencement of the rotation as a very smooth action, not jerking like many others I have had in the past, excellent quality, highly recommended.
---
par : Steve D
2019-10-23T00:00:00
Used the grinder to cut some tiles, did the job very well and controllable. Bought it for this purpose but I am sure it will be a very good piece of kit to have and come in very useful in the future for all sorts of jobs.
---
par : Christine W
2019-06-04T00:00:00
Excellent grinder did the job great no fuss just good simple instruction brilliant
---
par : Christine W
2019-05-28T00:00:00
Bought this for my son to get some bolts cut from a garden bench . He said it did the job was easy to use .
---
par : taimoor k
2019-05-12T00:00:00
you can''t get the better grinder in this price I am so happy with that it is working perfectly Thanks silverlinetools
---
par : Keith B
2019-04-23T00:00:00
Very good grinder works very well and of good quality, just as good as the more expensive makes
---
par : Robert G
2018-09-07T00:00:00
I needed an angle for a single job so didn''t want to spend to much money. My purchase was just what I needed. It did the job with ease and came supplied with everything I needed. I''ve since for it useful in other small jobs. Would definitely recommend it.
---
par : Shaun C
2018-04-19T00:00:00
Over the years I've got through a lot of angle grinders and always found issues with them but this grinder is incredibly pleasing. It's comfortable to hold, weighted just right, it's quite compact but packs a hell of a punch for such a small unit. Overall it's just perfect for what i need.
---
Garantie 3 ans
Ce produit Silverline est garanti pendant une période de 30 jours à partir de la date d'achat contre tout vice de matériaux ou défaut de fabrication. Vous pouvez obtenir une garantie à vie en enregistrant votre produit en ligne. Tout bien présentant un défaut sera réparé ou remplacé gratuitement.