633799
Clés mixtes, 12 pcs
6 - 22 mm
---
---
Extrémités fourche et bi-hexagonale inclinées à 15° pour plus d'accessibilité
En chrome-vanadium matricé, trempé et revenu
Finition entièrement polie de haute qualité
Trousse de rangement en nylon balistique ultra-résistant
Tailles 6 - 22 mm
---
Achetez en ligne
Trouver un magasin
Évaluez ce produit
7 évaluations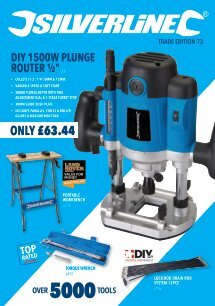 ---
Caractéristiques techniques du produit
| | |
| --- | --- |
| Poignée/manche - primaire - finition | Poli - mirroir - chromé |
| Finition | Poli - mirroir - chromé |
| Trempé | Trempé et revenu / 43 - 48 |
| Poids du produit | 1,11 kg |
| Style | Bague 12 points et extrémité ouverte à 15° |
---
Caractéristiques principales
Extrémités fourche et bi-hexagonale avec une inclinaison de 15° pour plus d'accessibilité. En chrome-vanadium matricé, trempé et revenu. Finition entièrement polie de haute qualité. Trousse de rangement en nylon balistique ultra-résistant. Tailles : 6, 7, 8, 9, 10, 11, 12, 13, 14, 17, 19 et 22 mm.
---
Contenu
12 x Clés mixtes (6, 7, 8, 9, 10, 11, 12, 13, 14, 17, 19 et 22 mm)
1 x Trousse de rangement en nylon
---
Évaluations de clients
par : Howard
2022-01-23T00:00:00
Having lost some of my most used spanner's I needed to replace them with good quality and a polished finish.Also with this set you only buy sizes you will use.Guaranteed for life fabulous.
---
par : Simeon H
2020-06-07T00:00:00
My own stupidity but did not realise it was a full set and the ones missing seem to be the ones I need the most. The ones that are there are solid and a nice weight. So I'll give this a high rating because I should have checked myself.
---
par : Michael S
2020-05-24T00:00:00
I bought a set of Silverline spanner's. These are perfect for my repairs. They are strong and despite heavy work there are no signs of wear. , so no damage to my machines. These are the best tools going.
---
par : James S
2020-04-17T00:00:00
Great product and having the knowledge of a lifetime guarantee, gives me confidence in my purchase. Will be getting more things for my tool collection in the near future!
---
par : Jamie w
2019-01-10T00:00:00
Bought this set as I wanted to keep my tools tidy in tool box. Good sturdy spanners sturdy spanners get a lot of use.comes in a tidy tool roll extremely happy with my silverline product as usual
---
par : damdam
2017-11-11T00:00:00
Great set of tools ! Quality looks very good, and price very interesting. And Life guarantee ! Could not expect more ! Thanks !
---
par : Chris L
2017-01-23T00:00:00
Really quick on delivery, the whole ordering process was easy and straightforward. Packaging was in good order, no rattles or dents when received. Opened and now sitting nicely on the tool board. Case holding the tools is good quality and I can see it lasting for a long time. The tools themselves feel nice and solid and completely fit for purpose. Definitely worth the purchase and would recommend to all I know.
---
Garantie à vie
Ce produit Silverline est garanti pendant une période de 30 jours à partir de la date d'achat contre tout vice de matériaux ou défaut de fabrication. Vous pouvez obtenir une garantie à vie en enregistrant votre produit en ligne. Tout bien présentant un défaut sera réparé ou remplacé gratuitement.