SP100
Clés mixtes, 25 pcs
6 - 32 mm
---
---
Extrémités fourche et bi-hexagonale inclinées à 15° pour plus d'accessibilité
En acier chrome-vanadium matricé, trempé et revenu
Finition entièrement polie de haute qualité
Trousse de rangement en nylon balistique ultra-résistant
Tailles 6 - 32 mm
---
Achetez en ligne
Trouver un magasin
Évaluez ce produit
37 évaluations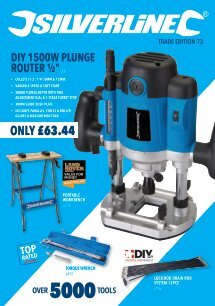 ---
Caractéristiques techniques du produit
| | |
| --- | --- |
| Poignée/manche - primaire - finition | Poli - mirroir - chromé |
| Finition | Poli - mirroir - chromé |
| Trempé | Trempé et revenu |
| Poids du produit | 5,007 kg |
| Style | Bague 12 points et extrémité ouverte à 15° |
---
Caractéristiques principales
Extrémités fourche et bi-hexagonale avec une inclinaison de 15° pour plus d'accessibilité. En chrome-vanadium matricé, trempé et revenu. Finition entièrement polie de haute qualité. Trousse de rangement en nylon balistique ultra-résistant. Tailles : 6, 7, 8, 9, 10, 11, 12, 13, 14, 15, 16, 17, 18, 19, 20, 21, 22, 23, 24, 25, 26, 27, 28, 30 et 32 mm.
---
Contenu
25 clés mixtes 6, 7, 8, 9, 10, 11, 12, 13, 14, 15, 16, 17, 18, 19, 20, 21, 22, 23, 24, 25, 26, 27, 28, 30 et 32 mm)
Trousse de rangement en nylon balistique ultra-résistant
---
Évaluations de clients
par : Lukebartlett
2018-09-08T00:00:00
This is a brilliant set of all the spammers you would need day to day. I use this set daily for work and they are holding up well the main I really like the role case easy to move spanner's from job to job and I can quickly see if Any spanner has gone walkies
---
par : Simon H
2018-03-03T00:00:00
A good useful set of spanners at a very reasonable price I actually bought the set as it was considerably cheaper than buying individuall spanners of the correct size. Also for the warranty on them.
---
par : rouxel
2017-12-22T00:00:00
je suis ravi de la finition des clés !! finition polis ( largement équivalente a une grande marque connue ! ) rapport qualité / prix : trés bon ! de plus garantie a vie !! ( après enregistrement ) merci !
---
par : Mark
2017-07-24T00:00:00
I''m confused why some mechanics are still spending hundreds of pounds more on Snap-on. When you get the same quality equipment from Silverline tools at a 8th of the price. I''ve not bought anymore snap-on or Mac since I bought a Silverline replacement ratchet. Many thanks For your quality equipment Silverline...
---
par : Gavin N
2017-07-22T00:00:00
Good quality excellent value it''s the second set I''ve bought for working in to different places
---
par : Ryan m
2017-07-18T00:00:00
Very ergonomic design, excellent build quality, great product
---
par : Martin U
2017-06-16T00:00:00
These spanners are a great buy, a good polished finish, and the canvas roll is strong and should last a good while.
---
par : R.K.Walker
2017-04-21T00:00:00
1st class product,well finished,good to look at -- Should last a lifetime! Very pleased with the tools.
---
par : Jim
2017-04-16T00:00:00
Great functional set of spanners. Pouch hangs nicely in my van so easy access. Only problem I have is people keep borrowing them and I have to chase around to get them back!
---
par : Mark B
2017-01-20T00:00:00
Well I needed new spanners - These are just great. I already had dozens of spanners of various brands, but they were just in a big pile and were getting a bit tired. I really wanted to replace them with something I could see escalating in size in as many sizes as possible given that most manufacturers miss out sizes in the middle (useless). Well, these are just the ticket in that regard. Nice and smooth clean polish to them too, so easily cleanable with no places for dirt to accumulate. The roll isn''''t cheap plastic neither, rather it''''s like a waterproof cloth or something (feels sturdy). Go get em peeps, you will not be disappointed!
---
par : Ron M
2017-01-06T00:00:00
Very good set of spanners for the price. Great to have a full set with all the sizes and the pouch is ideal for hanging in the work shop. Would recommend these to friends without hesitation.
---
par : Yordan V
2017-01-05T00:00:00
---
par : Waheed a
2016-10-25T00:00:00
Very good quality very happy with the set and at the right price...
---
par : Joe
2016-09-20T00:00:00
---
par : Peter C
2016-09-19T00:00:00
Great set of spanners for the price, The pouch leaves a bit to be desired though as has already developed some holes.
---
par : Mark s
2016-09-05T00:00:00
Very good value and no breakages after 18 months in professional heavy duty environment. Finish not fairing well though compared to other brands.
---
par : Gary S
2016-08-22T00:00:00
I use these all the time in aviation and these spanners along with a few other silverline tools I have are just as good as brands like snap on but a fraction of the price and I always recommend silverline to other engineers
---
par : David N
2016-08-22T00:00:00
Useful kit - nice complete range of sizes. had this for some time now and very happy with it.
---
par : E J
2016-08-22T00:00:00
Great value comprehensive set. Good to handle well polished and of course guaranteed for life.
---
par : Joseph D
2016-08-22T00:00:00
No complaints with this well priced product.Spanner holder of much better quality than other brands. Have no hesitation in recommending this spanner set.
---
par : Ian C
2016-08-22T00:00:00
So far so good. Have not used a lot but when i have i have been impressed with this spanner set.
---
par : Jack
2023-01-26T00:00:00
Some of the best spanner's ever bought
---
par : Alan B
2021-06-22T00:00:00
I purchased two sets of Silverline spanners one short the other long. Both were excellent value and appear to be superb quality I was very impressed. I purchased them as my old set were missing sizes and were long in the tooth. I am a retired garage owner.
---
par : Mr M
2020-06-11T00:00:00
I love the products from Silver line
---
par : Matt
2020-06-04T00:00:00
I work on aircraft and have used many top end tools such as snap on and bluepoint. I can see no difference in quality with these much cheaper tools. Theres a good range of sizes so they should be able to tackle any job. They also come with a lifetime guarantee so even if I do have a problem they will get replaced. The tool roll is also welcome addition and l feels like it will last.
---
par : Paul B
2020-05-15T00:00:00
Extremely well made spanners that will last a lifetime. The set is heavy but gives you virtually as many sizes that are normally needed. Quick delivery. Recommended.
---
par : Alex M
2020-03-04T00:00:00
A very solid and well made set of combination spanners. Perfectly polished and finished, do the job the intended to and in the unlikely event they will, a lifetime guarantee applies.
---
par : Alistair w
2019-11-26T00:00:00
Great spanners. All sizes you will ever really need unless you''re servicing a tank! Come in very handy so far. Well made, and will serve me for years to come.
---
par : ryan w
2019-11-25T00:00:00
Good quality, shiny and strong
---
par : Ryan W
2019-11-15T00:00:00
Very good set of spanners, shiny and well made, very impressed
---
par : Oz P
2019-08-27T00:00:00
I''m an amateur racer and I bought these as my main set of spanners for race weekends. I thought I''d give them a go as the full set came to just a few pounds more than a 32mm spanner costs on its own from some places. The quality has been great, they''ve done everything I''ve asked of them and, although I''m using them in a hobby capacity rather than in a professional environment, the lifetime guarantee is unbeatable in this price bracket and I can''t imagine I''ll need to buy another set for a long time.
---
par : Simon
2019-07-12T00:00:00
Decided to update some older spanners and looked at other brands. These looked great value and boy they are. Given them some stick and they do the job. Nice chrome finish snug fit and a fraction of the price for buying products with fancy name tags
---
par : David
2019-05-29T00:00:00
Got the spanner set 6mm to 32mm fantastic product for the cash and you get a life tine warranty aswell can''t go wrong.
---
par : Connor H
2019-01-05T00:00:00
Fantastic spanners for the price. Don''t see why anybody would pay any more for something that does the job excellently with a lifetime guarantee too!
---
par : Daniel S
2018-10-17T00:00:00
Solid set of spanners, lifetime guarantee is spot on
---
par : Killian
2018-10-13T00:00:00
Outils magnifique a utilisé, très robuste, qualité prix incroyable. J''ai été surpris par la garantie à vie pour le prix. Très bonne qualité
---
par : Andrew a
2018-10-02T00:00:00
Brilliant set of spanners very strong and easy to handle
---
Garantie à vie
Ce produit Silverline est garanti pendant une période de 30 jours à partir de la date d'achat contre tout vice de matériaux ou défaut de fabrication. Vous pouvez obtenir une garantie à vie en enregistrant votre produit en ligne. Tout bien présentant un défaut sera réparé ou remplacé gratuitement.