MS110
Pistolet de graissage à levier
500 ml
---
---
Pour un usage intensif, s'utilise avec des cartouches ou de la graisse en vrac
Comprend un tuyau flexible et rigide
Possède une vis de remplissage et un poussoir à cartouche
Convient aux cartouches de 400cm3, peut contenir 500 ml de graisse en vrac
---
Achetez en ligne
Trouver un magasin
Évaluez ce produit
7 évaluations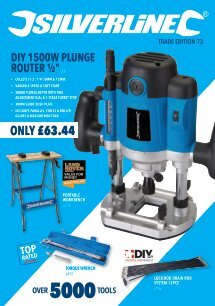 ---
Caractéristiques techniques du produit
| | |
| --- | --- |
| Capacité - volume | 500 cc |
| Finition | Barillet et armature thermolaqués bleu, finition mate |
| Poids du produit | 1,101 kg |
| Volume | 500 ml |
| Matériau - poignée/manche - secondaire | Acier |
| Matériau - construction secondaire | Mécanisme en alliage, piston en plastique |
| PSI / BAR | 4 500 PSI/310 BAR pour le tube flexible |
---
Caractéristiques principales
Pistolet de graissage à levier de 500 ml, usage intensif. Pour graisse en cartouche ou en vrac. Comprend tube rigide et tube flexible. Pourvu d'un piston pour remplissage graisse vrac et piston pour cartouche. Fourni dans une boîte.
---
Contenu
1 tube flexible
1 tube rigide
---
Évaluations de clients
par : Anthony L
2020-06-08T00:00:00
Brand new ''grease gun'' came with a seized ball bearing in the coupler and leaked grease from every orifice except for the proper place. If I could have removed the fresh grease I bought separately and returned the product at no cost for a full refund I would have but it wasn''t worth the bother. I''ve used maybe 5 or 6 Silverline router bits and they were all just as poorly made and short lived. The only reason I bought the gun was because of the lifetime warranty but that was clearly misleading. Not even worth 1 Star because it''s such a waste of resources to consistently produce useless products. Never again for me.
---
par : Gary M
2020-03-21T00:00:00
Really sturdy gun. Well up to the job with good pressure. Comes with rigid & flexible hose for all those greasing jobs. Great value product!
---
par : Jens l
2019-05-09T00:00:00
Fast delivery and it works perfect
---
par : Graham K
2019-04-21T00:00:00
Great product did the job perfectly especially with the included flexible nozzle
---
par : Vasil M
2016-11-14T00:00:00
The greasing gun works perfect, arrived on time, well packed too. Thank you!
---
par : John D
2016-10-25T00:00:00
On unpacking this grease gun I was very pleasantly surprised at the quality considering the very reasonable price. It is a solidly built tool; nothing flimsy. As I use a grease gun on infrequent occasions I was not looking for a top quality product, but I got one all the same in this Silverline product. Highly delighted.
---
par : michael w
2016-09-28T00:00:00
really good value for money, very well built to take any punishment thrown at it, am very pleased with it
---
Garantie à vie
Ce produit Silverline est garanti pendant une période de 30 jours à partir de la date d'achat contre tout vice de matériaux ou défaut de fabrication. Vous pouvez obtenir une garantie à vie en enregistrant votre produit en ligne. Tout bien présentant un défaut sera réparé ou remplacé gratuitement.