411212
Digitale schuifmaat Expert
---
---
Gehard roestvrijstaal
4 meetfuncties: intern, extern, diepte en stappen
Duimschroef voor fijn verstelling
Groot. gemakkelijk af te lezen scherm
Metrische en imperiale metingen, nauwkeurig op 0,01 mm
---
Koop online
Vind een handelaar
Beoordeel dit product
3 review(s)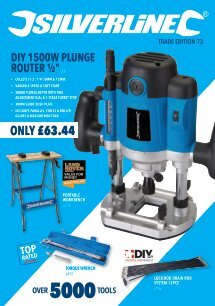 ---
Product beschrijving
Roestvrijstalen schuifmaat voor het meten van dikte, afstand en diepte. Fijn afstellingswiel voor nauwkeurig afstellen. Nauwkeurig op 0,01 mm.
---
Doos inhoud
1 x digitale schuifmaat
2 x LR44 batterijen
---
Klanten reviews
Door: Patrick D
2018-10-26T00:00:00
I regret to have to say that I am returning this to vendor as it is not fit for purpose. The main bar is not straight and the slider is a loose fit on it. It switches itself on if the box is moved. It looses its digital position when opened out so I can have no confidence in accuracy. Repeat measurements of the same component gives different readings.
---
Door: Mark T
2017-03-06T00:00:00
I purchased this tool as my existing caliper had developed a fault and i needed a replacement next day to complete some works. I have several Silverline tools so I was happy to purchased from a brand I have experience with. Having used the tool to complete several measuring exercises, here is my general opinion :- Build quality - 7/10 Some minor miss-alignments of the jaws (not effecting measurement)and a few rough edges, arrived with scratches to the painted finish on the display housing & tooling marks on the steel work. Drill gauge on the reverse of the display is fitted off square. Action - 6/10, movement is ok but there are tight spots on the main ruler chassis which makes it feels "notchy" when traversing without using the thumb wheel, using the thumb wheel is fine Accuracy - 8/10, When check against my calibrated Mitoutoyo digital micrometer error is +/- 0.1mm, Full scale traverse gives a repeatability error of 0.01mm, both these error are within acceptable limits for my purposes Suppied with a storage case of acceptable quality and 2 batteries which is good Display is easy to read, buttons are a little small to operate easily. Overall - A good value tool at this price point
---
Door: Gary D
2016-10-10T00:00:00
The vernier is easy to use, I bought it because I needed a bigger vernier, my old one is only a 200mm one. It does the job