508824
Handschaaf nr. 5
50 x 2 mm blad
---
---
'Heavy-Duty' carbon stalen schaafblad
Gietijzeren frame
Koperen afstelschroef
Palissander handvaten
---
Koop online
Vind een handelaar
Beoordeel dit product
3 review(s)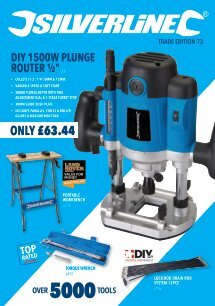 ---
Product specificaties
| | |
| --- | --- |
| Hoofdhandvat afwerking | Palissander |
| Hulphandvat diameter | 40 mm |
| Zaagblad breedte | 50 mm |
| Schaafbreedte | 50 mm |
| Gewicht | 2,276 kg |
| Verstelmethode | Messing schroeven |
| Gehard | Ja |
---
Product beschrijving
Gietijzeren frame met palissander handvaten, vastgezet met 2 koperschroeven. Verhoogde zijkanten, koperen afstelschroef en 2 mm dik 'Heavy-Duty' schaafblad. Blad breedte 60 mm.
---
Doos inhoud
---
Klanten reviews
Door: Paul B
2018-01-11T00:00:00
I was given this plane as a gift so felt compelled to get it working. Unless you place no value on your time don''t buy one of these, not a single face is square on the foot and to get the iron usable has cost me days in grinding (yes days). I can honestly say I have not had worse. It only gets a 1 star because there is no zero star. Seriously Silverline, if you are going to manufacture to such a bad standard why do you bother at all.
---
Door: Augusto C
2016-09-27T00:00:00
When I bought this tool it know plane but after the initial tune it start work well.
---
Door: mark c
2016-03-04T00:00:00
this plane needs some work on the sole to remove the grind marks and flatten it but if you prepared to do this then you have a very good plane with a nice thick casting the blade is good too