282378
Micromètre
25 mm
---
---
Corps robuste en acier résistant à la corrosion
Plage de mesures de 0 à 25 mm et résolution de 0,01 mm
Livré dans une boîte de rangement solide
---
Achetez en ligne
Trouver un magasin
Évaluez ce produit
14 évaluations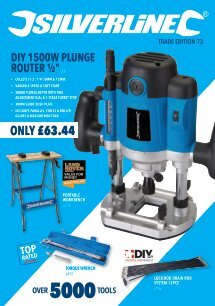 ---
Caractéristiques techniques du produit
| | |
| --- | --- |
| Finition | Émaillé, poignée en aluminium moleté |
| Poids du produit | 0,206 kg |
| Plage | 0 à 25 mm |
| Résolution | 0,01 mm |
---
Caractéristiques principales
Corps émaillé, tambour et bague graduée en chrome satiné. Livré dans une boîte de rangement solide. Plage de mesures de 0 à 25 mm. Résolution de 0,01 mm.
---
Contenu
1 x Micromètre
1 x Boîte de rangement solide
1 x Clé de calibrage
---
Évaluations de clients
par : Jandard
2020-03-27T00:00:00
J''ai reçu ce micromètre et j''en suis pleinement satisfait ! La qualité est au rendez-vous, et pour pas trop cher !
---
par : Raphael P
2019-10-31T00:00:00
Really good product good value for money
---
par : Rudi
2019-10-09T00:00:00
I bought this micrometer, although knowing there are other names on the market. Mitutoyo..., but what I get from silverline has a good price / quality ratio. It was good protected and works well for home measurement.
---
par : Geoff P
2019-08-16T00:00:00
Happy so far with this micrometer, for its price it is certainly worth buying
---
par : Alan G
2019-04-26T00:00:00
As with all Silverline tools, the Micrometer is well made and provides quality with a good guarantee should anything go wrong.
---
par : J B
2019-01-01T00:00:00
Very happy with this product just the job
---
par : ricardo
2018-11-05T00:00:00
It is a very good instrument.
---
par : James
2017-03-02T00:00:00
This tool is great value it does what it is designed to do with no fuss and is reliable. Simple and effective just what I wanted
---
par : Jeff T
2016-10-11T00:00:00
Simple to use, it helped me to determine the diameter of electrical cabling to ensure it was the correct size for the rating of an electric shower.
---
par : nigel g
2016-10-10T00:00:00
excellent little tool. Does what it says on the tin.
---
par : Jean-Yves T
2016-10-10T00:00:00
Very good product, I''''ve had it for a while now and it has been reliable so far.
---
par : Terry O
2016-08-22T00:00:00
Extremely well made of sound material .Easy to use and read off. Instead of trying to gauge with a ruler now get the exact measurements.Just don''t know why I didn''t buy one earlier in my D.I.Y career.
---
par : Jean-Yves T
2016-08-22T00:00:00
Have been using this for a while now, it does what it is supposed to do. No problem at all.
---
par : Mathis D
2016-08-22T00:00:00
I needed this tool in order to measure the thickness of the brake disks on my car. It did perfectly the job !
---
Garantie à vie
Ce produit Silverline est garanti pendant une période de 30 jours à partir de la date d'achat contre tout vice de matériaux ou défaut de fabrication. Vous pouvez obtenir une garantie à vie en enregistrant votre produit en ligne. Tout bien présentant un défaut sera réparé ou remplacé gratuitement.