677256
Pied à coulisse à vernier numérique
150 mm
---
---
Léger , fabriqué en fibre de carbone
Ecran LCD facile à lire
Mesure les cotes internes et externes
Mesure de 0,1 mm à 150 mm
Graduation métrique et impériale
---
Achetez en ligne
Trouver un magasin
Évaluez ce produit
4 évaluations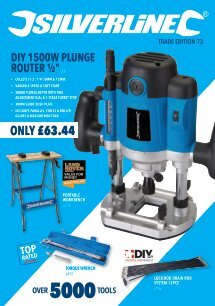 ---
Caractéristiques techniques du produit
| | |
| --- | --- |
| Finition | Composite lisse |
| Poids du produit | 0,059 kg |
---
Caractéristiques principales
Pied à coulisse à vernier numérique en composite fibres de carbone. Résolution 0-150 x 0,1 mm /0 - 6 x 0.01". Mesure métrique ou impériale. Deux prises de mesure possibles : cotes internes et externes.
---
Contenu
Pied à coulisse à vernier numérique 150 mm
Batterie LR 44
---
Évaluations de clients
par : Stephen B
2019-09-22T00:00:00
Great piece of kit for model railway enthusiasts for sizing plasticard, brass sheet and bar''s and other smaller componants that you cannot get an accurate measurement with a ruler and you have got a digital reading
---
par : Simon H
2018-11-08T00:00:00
Super tool, is accurate and the sliding mechanism and measuring faces are machined accurately, unlike some of the uber cheap ones.
---
par : Alex H
2018-10-21T00:00:00
I use a vernier caliper all the time in my job so it''s usually in my pocket. On this occasion I had misplaced my usual caliper and I needed to measure a component. I hurriedly went to the local tool store with the aim of buying another just to get me through and found this one by Silverline. Through the packaging it looked cheap and nasty but as I needed one I bought it. Upon arriving home I used it and found it to be extremely ergonomic - it fits my hand perfectly and feels good. The display is bright and clear and foremost it is accurate, returning to exactly zero every time. My original (much more expensive) caliper showed up but now I use only the Silverline. It''s a bargain for the price and does everything it should - highly recommended!
---
par : Matt J
2017-02-05T00:00:00
Very simple to use and lightweight. Nice and accurate as you''d hope. I think the only downside I''ve discovered so far is the lack of a locking screw, otherwise, perfectly serviceable.
---
Garantie 3 ans
Ce produit Silverline est garanti pendant une période de 30 jours à partir de la date d'achat contre tout vice de matériaux ou défaut de fabrication. Vous pouvez obtenir une garantie à vie en enregistrant votre produit en ligne. Tout bien présentant un défaut sera réparé ou remplacé gratuitement.