870944
Silverstorm Szlifierka mimośrodowa 240 W, 125 mm
240 W UK
---
---
Szybka wymiana dzięki mocowaniu na rzep oraz działanie mimośrodowe
Przyłącze odsysania pyłu wraz z torba na pył
Uszczelniony przełącznik on/off
Ergonomiczny uchwyt
W zestawie 2 x arkusze szlifierskie
---
Kup online
Znajdź dystrybutora
Zrecenzuj ten produkt
12 recenzji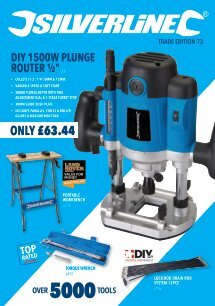 ---
Dane techniczne
| | |
| --- | --- |
| Połączenie ścierniwa | Rzep |
| Wykończenie | Plastik |
| Stopień ochrony | IPX28 |
| Średnica orbity | 2 mm |
| Moc | 240 W |
| Średnica tarczy | 125 mm (5") |
| Prędkość bez obciążenia | 12 000 obr./min |
| Waga | 1,22 kg |
---
Kluczowe funkcje
Szlifierka wyposażona w 240 W silnik, który zapewnia rotacje oraz doskonałe wykończenie. Uszczelniony przełącznik on/off, gwarantuje długą jego eksploatację. Podstawa szlifierska z mocowaniem na rzep o średnicy 125 mm, umożliwia szybką wymianę dysku szlifierskiego. Torba na pył zapewnia efektywną ekstrakcje pyłu. Kompaktowa i lekka konstrukcja z ergonomicznym uchwytem umożliwia kontrolę oraz komfort pracy.
---
Zawartość pudełka
1 x Szlifierka mimośrodowa
1 x Podstawa z mocowaniem na rzep
2 x Arkusze szlifierskie
1 x Instrukcja obsługi
---
Oceny klientów
Przez A. R
2019-11-06T00:00:00
As usual a superb product which although simple and easy to use produces results beyond my expectation
---
Przez A. R
2019-10-29T00:00:00
Like other Silverline tools I possess , the item is simple and a comforting pleasure to work with. Does what I expect of it without any problematic issues and gives me the finish I demand.
---
Przez george m
2019-05-31T00:00:00
nice size,quick change discs,snug grip,powerfull motor,very handy tool.
---
Przez Dan p
2019-05-24T00:00:00
Amazing little sander , perfect for all the diy jobs around the house , Highly recommend
---
Przez MR B
2019-04-29T00:00:00
Good sander works great on the car. Somewhat noisy but cannot compare with others as never used one before.
---
Przez MR B
2019-04-22T00:00:00
Nice little tool used for sanding car prior to pant spraying. Somewhat noisy but only to be expected. Works very well and does the job.
---
Przez Hugh m
2018-05-27T00:00:00
Bought this to do my motorhome was looking for one that fits in the pam of my hand so for works great easy too switch on button right at your fingers
---
Przez Paul M
2017-10-21T00:00:00
Just what I wanted does what it supposed to do with ease and lightness , Can not fault it
---
Przez Michael R
2017-09-15T00:00:00
Brilliant machine. well worth the money. paid for itself in one morning
---
Przez William e
2017-04-22T00:00:00
A super little orbital sander,it fits into the palm of your hand and the hook and loop fastening makes changing the sanding discs easy,it''s powerful enough for any sanding jobs all in all a good value tool
---
Przez ian s
2017-03-23T00:00:00
had this today and it works real well not as fast as my last orbital but does the job nicely, at least with this one the discs stay on the hook and loop base not like a more expensive other brand one i sent back after 20 minutes.... this one is a cheap well made item im well chuffed at the moment
---
Przez Charles M
2016-09-12T00:00:00
I purchased this 240W Random Orbital Sander a few months ago and it sure passed its endurance test. To be honest I thought that it was just another cheap tool that will burn out, but I was wrong!